Early Polishness at Warsaw Central Station
Early Polishness by Katarzyna Przezwańska is displayed in the window of the ING post at Warsaw Central Station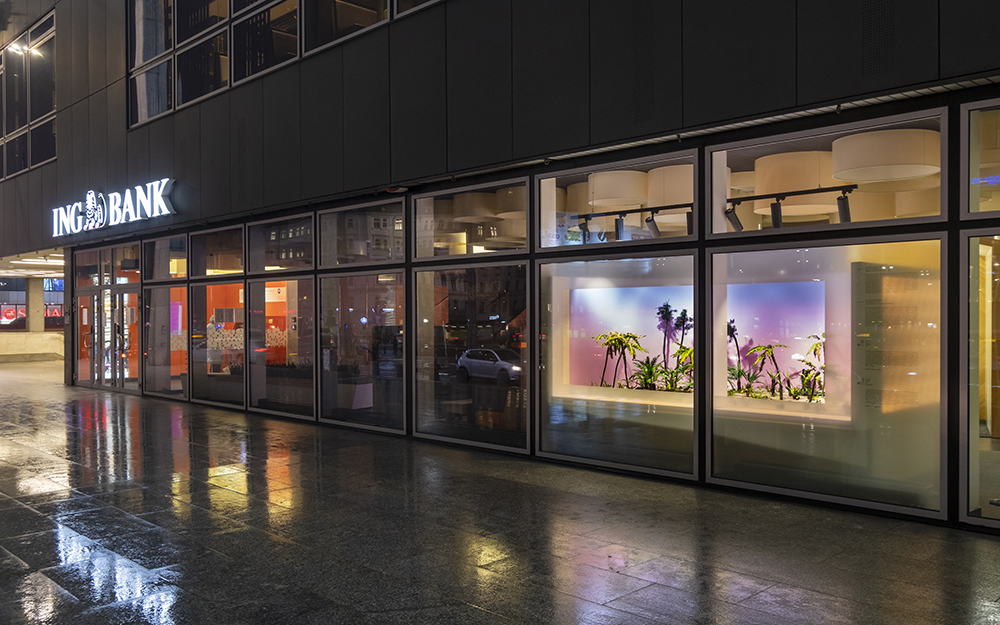 Everybody knows that the residents of Warsaw love palm trees. From now on, strolling the city center, they can come across a whole grove of trees uncommon in our climate (and geological era).

One of the biggest works in our collection – a diorama titled Early Polishness by Katarzyna Przezwańska depicting the terrain of present-day Warsaw 200 mln years ago – is displayed in the very heart of the capital, in the window of the ING post at Warsaw Central Station (from the side of Emilii Plater street). You can see the behind-the-scenes of Early Polishness in an interview with the artist:
Early Polishness was made to be seen through the window – this is how it was presented in Dawid Radziszewski Gallery during Warsaw Gallery Weekend, when it joined out collection as the winner of the first edition of The Foundation's Prize. Not long after, Early Polishness was exhibited during the RIBOCA 1 Biennale in Riga, at the exhibition The State is Not a Work of Art in Tallin, and an anniversary exhibition of our collection The Spirit of Nature and Other Fairy Tales in Silesian Museum, Katowice. From now one, the residents of Warsaw and the visitors can view it on a daily basis.