Rafał Milach
The Winners
2010-2013, pigment inkjet print, cardboard, 62 × 50 cm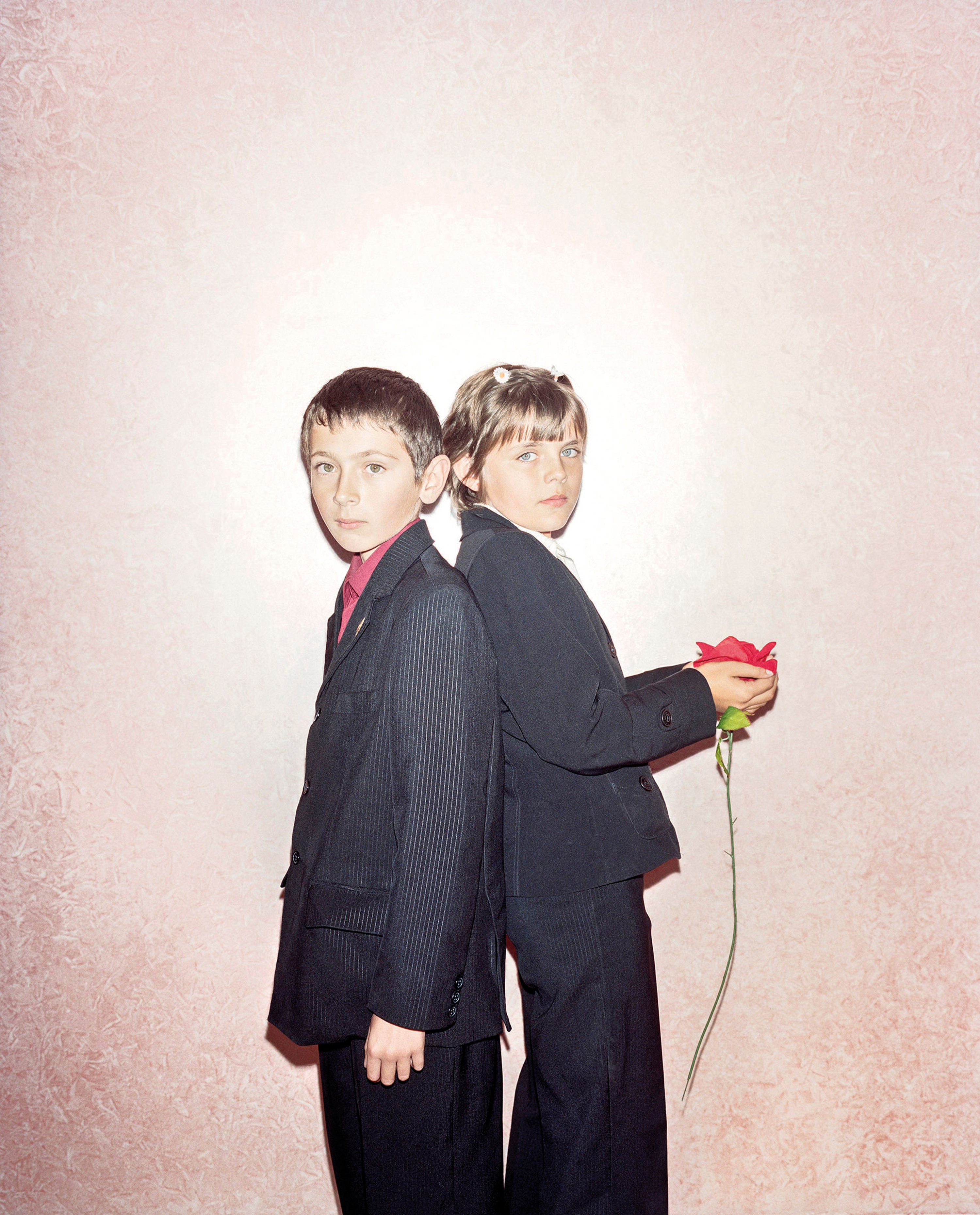 Agrogorodok Kobylovka. Maksim and Viktoria, award-winning BRSM members and pupils of the village school, which is suppor ted by the OAO Otechestvo potato company.
The Winners series comprises 55 photographs taken by Rafał Milach during a trip to Belarus. The cycle was inspired by Aleksander Lukashenko's 2004 ordinance requiring local institutions to become active in disseminating state ideology. Ever since, the landscape of Belarusian towns and villages has been expanded to include so-called Boards of Fame: bulletins introducing distinguished citizens. Milach's photographs depict winners of competitions, their formulas a direct derivative of propaganda objectives: best welder in Belarus, mother of the Best Large Family, best Minsk street sweeper. Pursuant to the work method adopted by the artist, persons responsible for organising these competitions would have a major influence on the candidate's portrait. The photographer consciously yielded to the success propaganda mechanism while revealing its grotesque nature.
Photographer. A graduate of the Academy of Fine Arts in Katowice and the Institute of Creative Photography in Opava, Czechia, and a member of the international Sputnik Photos photographic collective since 2006. Interested in transformation in former Eastern Bloc countries, he has travelled across Central & Eastern Europe for many years, photographing local socio-economic reality. A disbeliever in the unbiased nature of photography, he avoids the term "photojournalism" when talking about his work, preferring the term "subjective document". He is the author of photographs and photo books. The Sputnik Photos collective Milach is part of is a group of Central & Eastern European artists exploring and documenting the post-transformation reality. The collective has received numerous awards. Milach's work has been recognised at numerous competitions and events, including World Press Photo (for the Disappearing Circus cycle, 2008), Pictures of the Year (2009), and the Magnum Expression Award (2011). His publication The Winners made it to the finals of the Paris Photo Aperture Photobook of the Year 2014. He was nominated for membership in the prestigious Magnum Photos agency in 2018. He lives and works in Warsaw.