Painter. A painting graduate of the Academy of Fine Arts in Warsaw. He references surrealist poetics by creating abstract compositions he combines with scraps of reality. Some of his works evoke representations of tissues, organs, or bodily secretions, astonishing in the way they juxtapose angular geometric forms with organic softness. He is considered a precursor of artists from the "worn out by reality" scene (such as Tymek Borowski, Tomasz Kowalski and Jakub Julian Ziółkowski), all of whom employ styling variations detached from realism or commentaries on their surroundings. Janas participated in the 50th Venice Art Biennale in 2003. He lives and works in Warsaw.
Hair/Shoulders/Frame
2010 , oil, canvas, 120 × 85 cm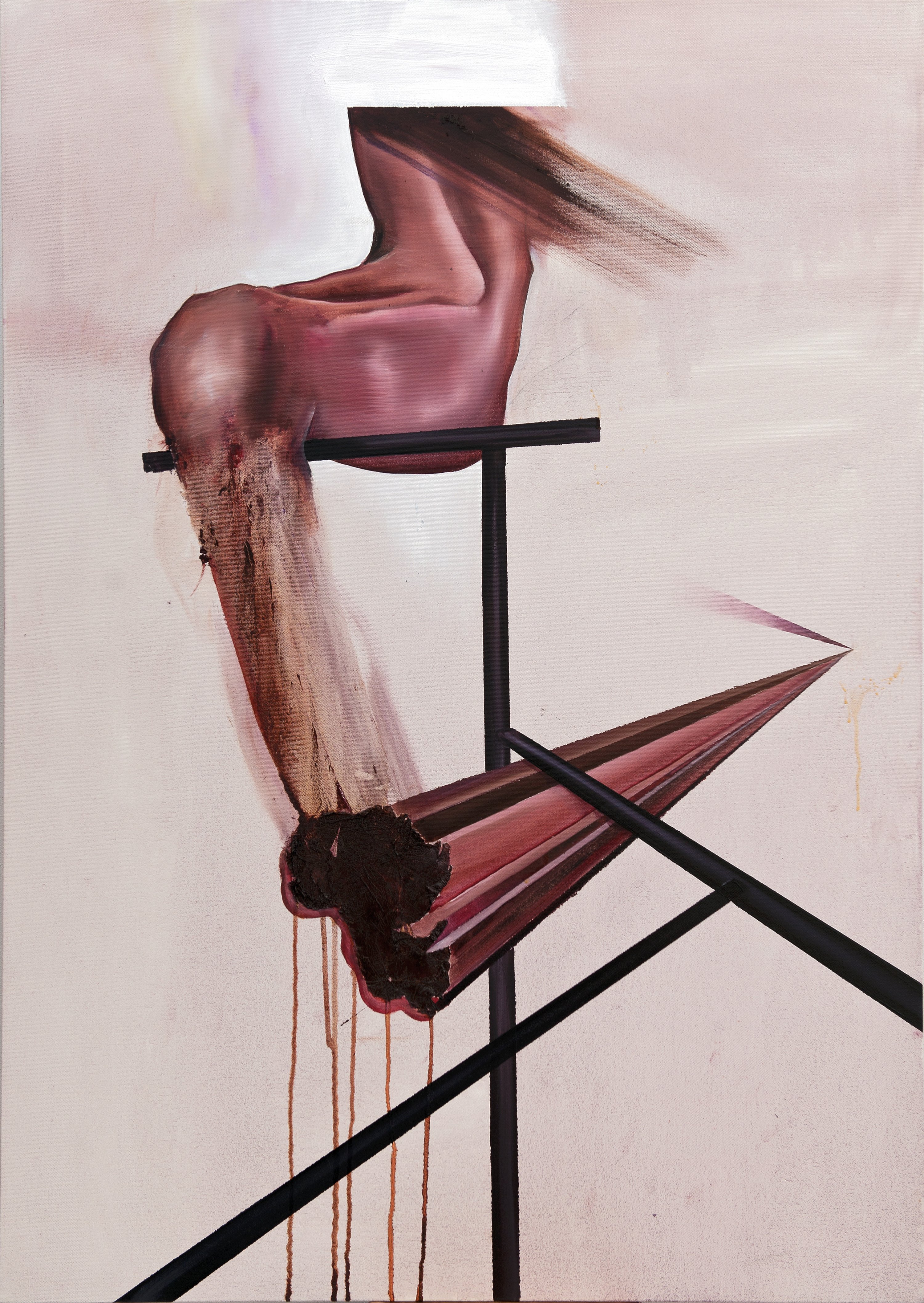 Piotr Janas's oeuvre differs from all other developments on the Polish art scene (dominated by figurative painting and critical art) since the early 21st century. His surrealist paintings might rather be described as akin to works by Erna Rosenstein and Jerzy Tchórzewski of the 1960s and 1970s. The artist takes advantage of the element of chance: a stain produced by one canvas pressing upon another, or an uncontrolled paint spill, may give rise to a new artwork. Janas expands the effects of such unplanned action to include other elements, painted on or added by scratching or cutting the canvas. He supplements random forms by alluding to the real world, as in this piece, where the titular hair, shoulder, and metal frame emerge from an abstract form. While Janas's paintings usually suggest or bring something to mind, they never offer a direct rendition or any kind of explanation.