Painter, filmmaker, performance artist. A graduate of the Academy of Fine Arts in Warsaw (Studio of Spatial Activities) and winner of a scholarship to Universität der Künste in Berlin, since 2015 he has studied at Kunstakademie Münster. He cofounded the Polen Performance duo (with Justina Los) and often cooperates with the German artist Nicholas Grafia. In his work he raises issues of construction of the politics of memory, the fate of marginalised groups, and erasure of the history of minority groups from official narratives. He received the ING Polish Art Foundation Award at Warsaw Gallery Weekend 2019. He lives and works in Münster and Warsaw.
The Smiths
2019, acrylic, canvas, 124.5 × 165 cm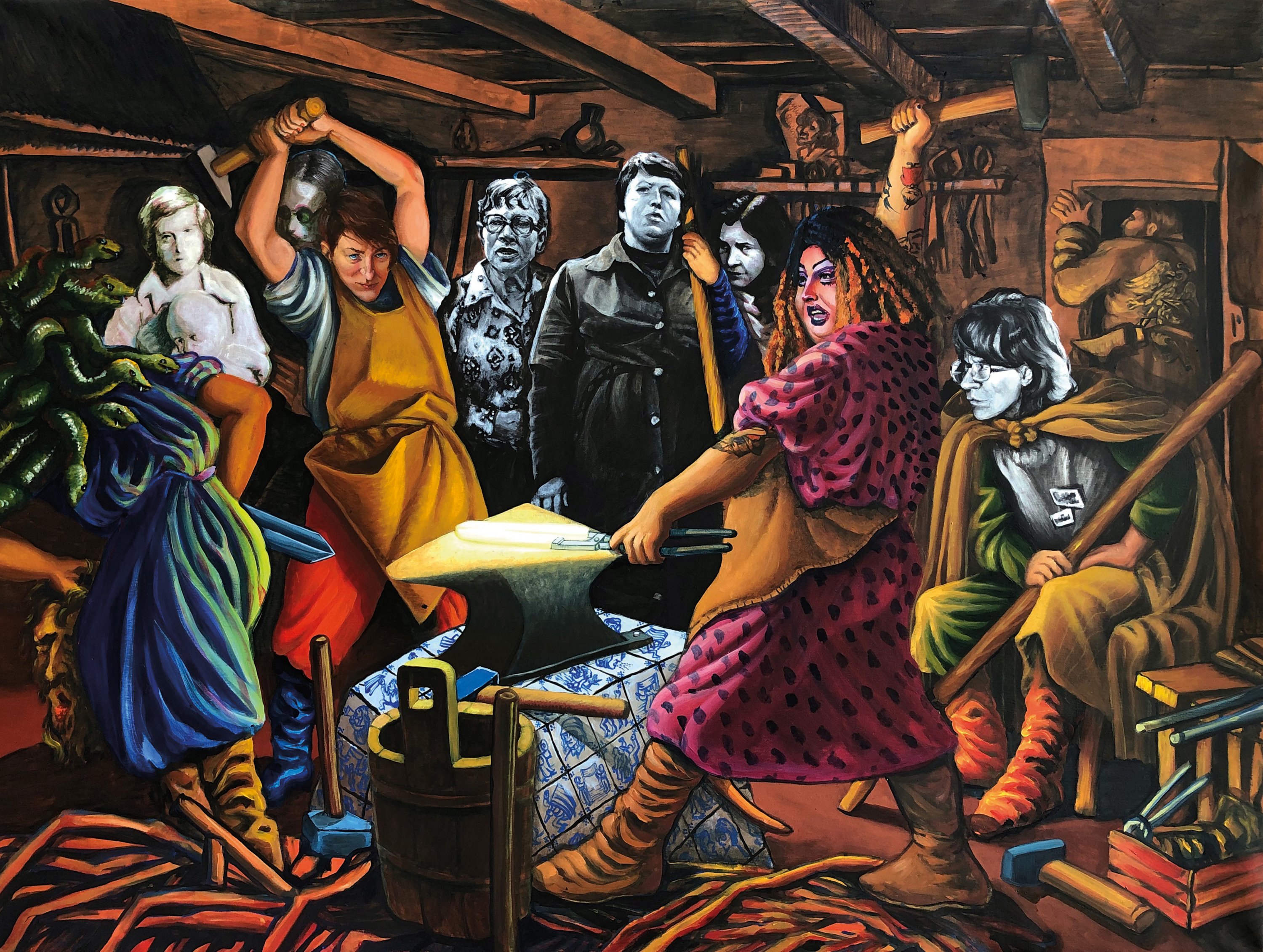 Mikołaj Sobczak plays with the convention of classical historical painting, whose role we have come to think of stereotypically. He restores to this form the potential which seemed long ago to have lost any relevance for contemporary art. Sobczak employs an image from Artur Grottger's 1863 painting The Beating of Scythes, and the motif of blacksmithing, to propose a narrative perversely suiting the current historical policy. He does this by presenting on canvas figures important for recent Polish history but marginalised due to their gender. Forging iron in the foreground are activists—drag queen Charlotte and Magdalena Farat—whose work is observed by their older colleagues from the Solidarity movement: Alina Pieńkowska, Ewa Ossowska, Henryka Krzywonos, Anna Walentynowicz, Joanna Duda-Gwiazda, and Magdalena Wyszkowska with a child. Here the forging of iron symbolises the never-ending battle for rights, visibility and acceptance, in public space and historical narratives.
Snails Riot I
2019, ceramics, 30 × 27 × 9 cm
Snails Riot I depicts an outbreak of an uprising or a revolt. When the crowds take to the streets, a mass reconciliation takes the place of a violent encounter. Social divisions are erased, and previously opposing groups create a new form of statehood. The artists portrait famous activists: Ewa Hołuszko, member of the Solidarity movement; Marsha P. Johnson, American activist and drag queen; Sylvia Rivera, Latin American trans rights activist; and Stormé DeLarverie – one of the key participants of Stonewall riots.
The vase was created and painted using pottery techniques brought to Poland by Mennonite settlers from Münster. The permission for the Olęders to settle and practice their own religion was unprecedented in Europe due to their revolutionary views. The snail theme is inspired by the Delftware from the Nieborów Palace. Snails often accompanied the Olęders, settling on the riverbanks and draining the swamps. The snail is also an important element of the artistic and religious theme of vanitas, reminding us of the vanity and transiency of life.