Sculptor, draughtswoman, performance artist and creator of spatial installations. A graduate of the Academy of Fine Arts in Poznań, she co-founded the group Penerstwo. She considers the creative process a tool for gaining and transforming knowledge, then restoring it to general circulation. Inspired by the philosophy of atomism, quantum physics, and chaos theory, she has always experimented with matter, using materials such as animal skin, bones and fat, wax, salt dough, and plasticine. In time she expanded her array of media to include plastics (silicone) and natural resources typical for the rural architecture of countries of the global South: rock, clay, ash, rubber, and floral fibre. Winner of the Views 2015 Deutsche Bank Foundation Award, she has participated in such events as the 32nd São Paulo Art Biennial (2016) and the 16th Venice Architecture Biennale (2018). She lives and works in Kolonia Koplany.
SKU (Stock Keeping Unit)
2015, vegetable fiber, silicone, metal, 190 × 180 cm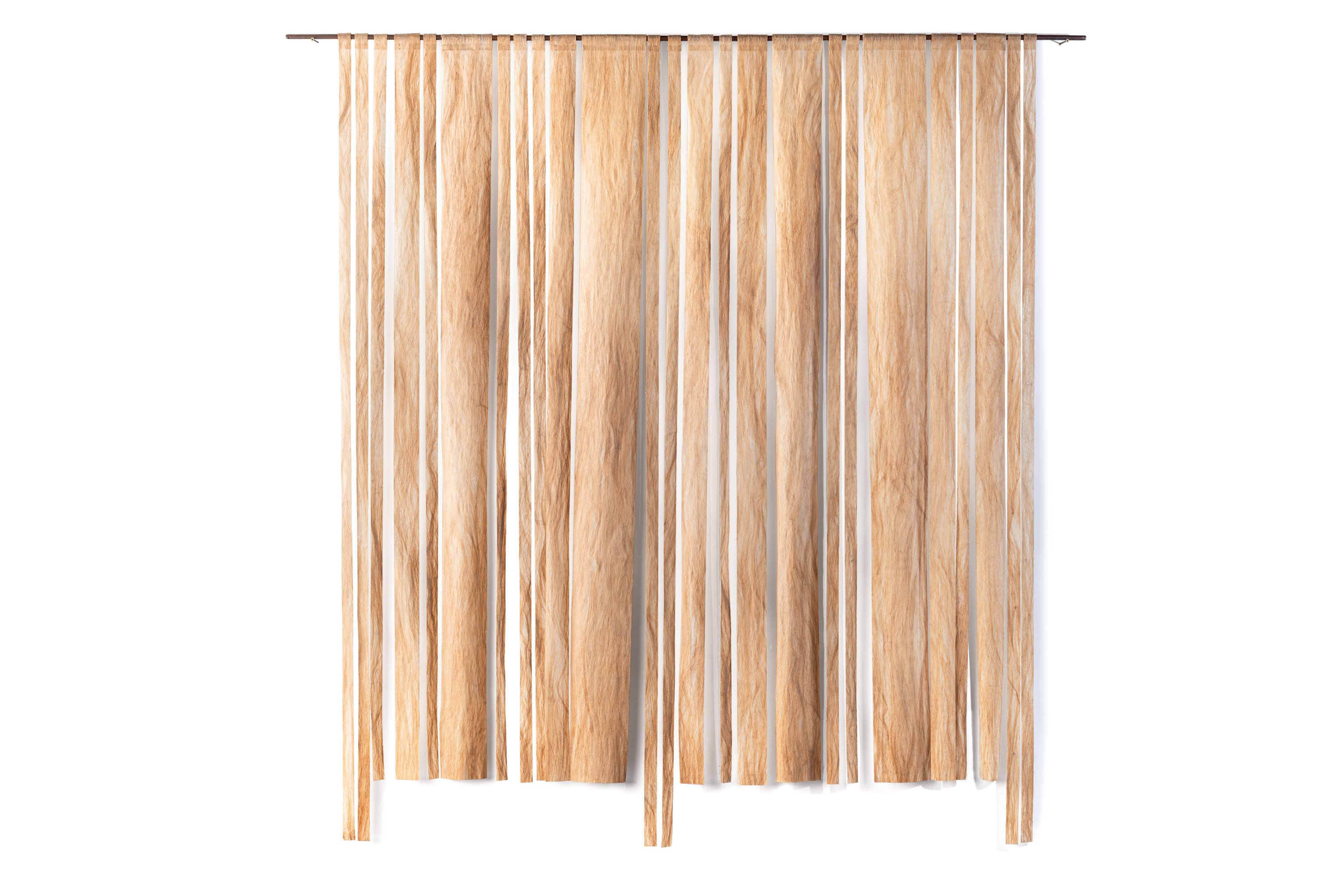 The SKU (stock keeping unit) is a warehousing unit for identifying, organising, and managing goods. In the artist's interpretation, the abstract code takes on the form of a three-dimensional tangible object. SKU is a set of transparent silicone ribbons with embedded floral fibres, suspended from a metal rod. While abstract, the form may bring to mind a rescaled barcode, or the plastic strip curtains people would hang in their homes. The titular theme of the manufacturing and distribution of goods is strongly present in Iza Tarasewicz's artistic practice and her approach to the creative process as such. The artist applies a kind of "artistic recycling": to minimise the use of materials, she reuses elements of earlier projects in new pieces. In her artistic practice, she explores questions of the artist's responsibility to the audience and environment, offering a commentary on the phenomenon of overproduction in the field of consumer goods as well as artworks.