Painter. A graduate of the Faculty of Graphic Arts at the Warsaw Academy of Fine Arts. In her work she plays skilfully with the aesthetics of kitsch, presenting serious themes and difficult emotions using jokes and the grotesque. She ascribes symbolic meaning to seemingly trivial items, alluding to motifs from art history and pop culture as well as iconic historical figures. In her painting she combines personal experiences with reflections on the condition of the contemporary world. In 2020, she received the ING Polish Art Foundation Prize during Warsaw Gallery Weekend. She lives and works in Warsaw.
.
Storm
2020, acrylic, canvas, 200 x 175 cm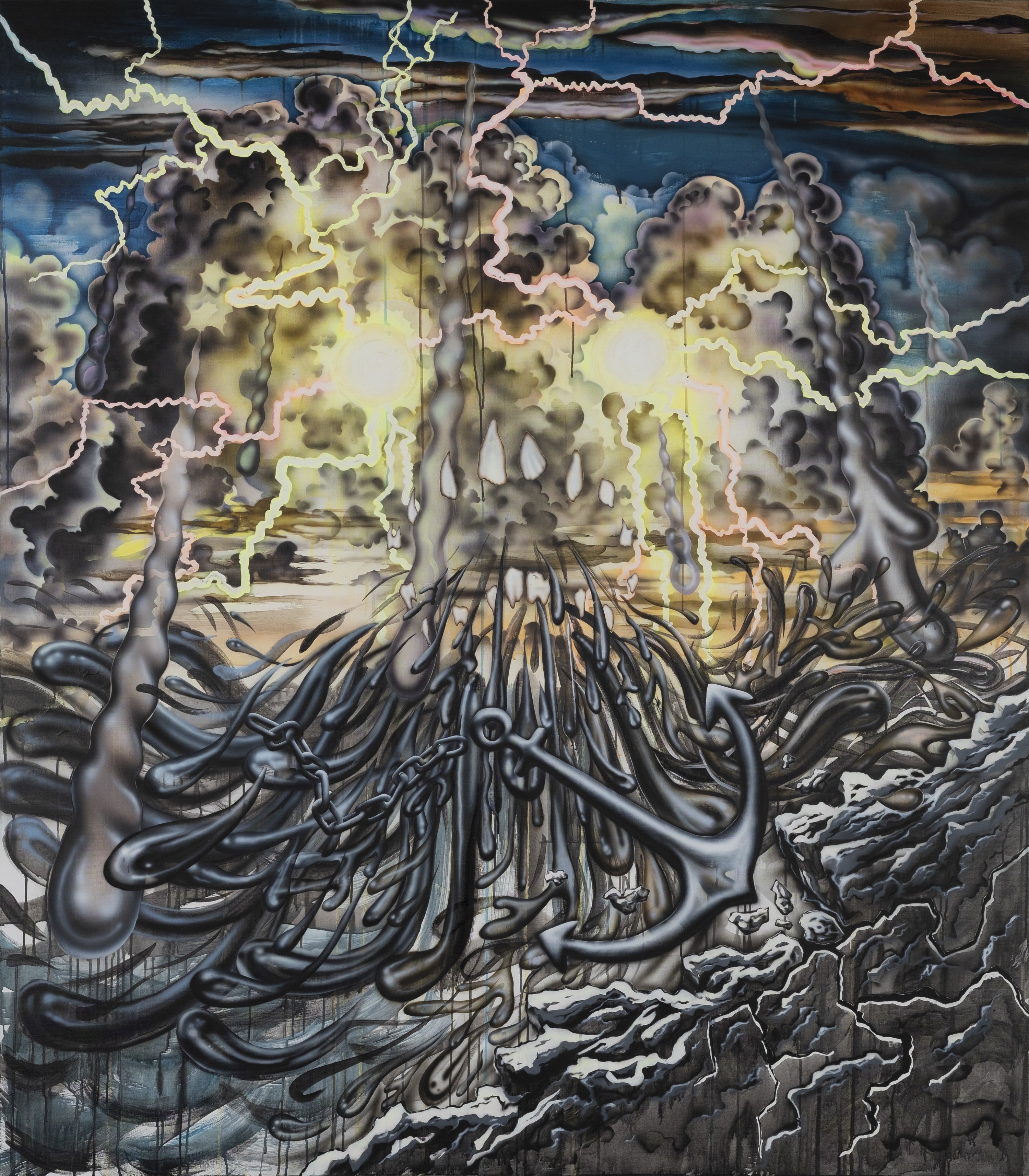 Storm was the first picture painted with a view to the exhibition Napoleonka or Death at the Polana Institute, which was the artist's personal coming to terms with the experience of long-term depression and the painful breakup with a partner. "This painting firstly touches on total anger," the artist says. "I imagined this gigantic, apocalyptic storm that would sweep everything from the face of the earth, ripping loose the chain, dashing the anchor against the rocks, electrocuting the whole world, because I am mad!" But Storm also has more than a personal dimension. The painting is a reflection on global events forging a sense of general despair and threat. The painting was created in February 2020, on the eve of the approaching pandemic. Iconographically, the painting recalls Albrecht Dürer's 16th-century watercolour Dream of the Great Flood, with blue-black towers of water cascading from heaven. It is a record of a disturbing dream of the artist from a time when Europe was facing the convulsions of the Reformation. Another major reference here for Hanna Krzysztofiak is the character of Fillyjonk from Moominvalley. Fillyjonk's life was ruled by a panicked fear of catastrophe. When the long-awaited storm arrived, destroying her home, Fillyjonk—typical for an anxious personality—finally felt relief and regained her inner calm.
Napoleonka
2020, acrylic, gouache, canvas, 220 x 175 cm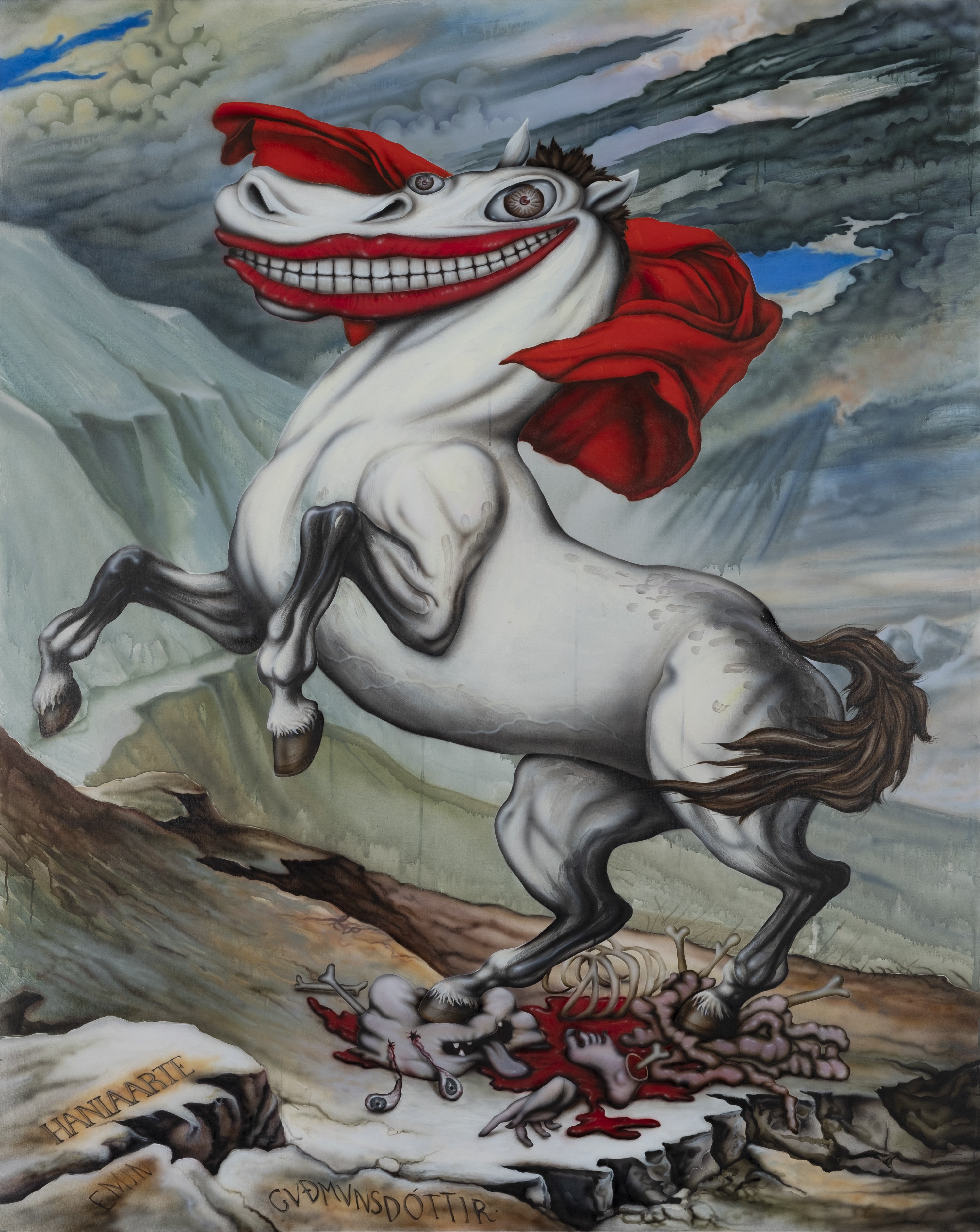 Napoleonka was intentionally painted as the last work for the exhibition Napoleonka or Death at the Polana Institute. Unlike the other works, it conveys a joyous, triumphal mood. As the artist herself says, Napoleonka "is the crowning of the exhibition, but also of my path—not exclusively in painting, but also emotional and psychological." Krzysztofiak cites a motif from Jacques-Louis David's painting Napoleon Crossing the Alps—her favourite image of triumph from the history of art. The pathos of the original is replaced by jocular, cartoonish details. In Krzysztofiak's version the mare (which the artist dubs "Horsess") has large feminine lips spread in a broad smile. The rider is gone from the mare's back, but a dismembered corpse can be seen under its hooves. Napoleon's hand, which in the original points a finger towards the sky, in Krzysztofiak's painting lies among the remains. For the artist, this is a symbolic gesture of cutting off the mansplaining hand of the patriarchy. The names of great leaders carved in the rock are replaced by the names of women who inspire Krzysztofiak: the artist Tracey Emin and the composer Björk Guðmundsdóttir. The inscription "Bonaparte" is replaced by the artist's jocular signature, "Haniaarte."