Edward Dwurnik
b. 1943, Radzymin – d. 2018, Warsaw
Painter and draughtsman. A painting and graphic arts graduate of the Academy of Fine Arts in Warsaw, he was one of the most vibrant characters on the Polish art scene, with a presence in popular and mainstream culture. To Dwurnik, Nikifor Krynicki was the most important artist and inspiration in the choice of themes, working methods, and style. Dwurnik's oeuvre, ironic and grotesque, chiefly includes expansive painting cycles, rendered with a fine paintbrush in semblance of Nikifor, with recurrent social, political, and social drama motifs, produced in multiple copies, often simultaneously. His bird's-eye-view cityscapes created over a number of decades from the mid-1960s are the cycle he is best known for. He painted his first set of abstract paintings, which he called "pollocks", in the early 2000s. He participated in Documenta 7 in Kassel in 1982. Winner of numerous awards, including the Cyprian Kamil Norwid Award (1981) and the Coutts Contemporary Art Foundation Award (1992). He lived and worked in Warsaw.
Galicia
1998, acrylic, canvas, 151 × 210 cm
The artwork Galicia is a blend of nostalgia for a world long gone and the country's multi-cultural past, Jewish tradition included, with a self-imposed form of homework the artist does in his studio: "Paint one hundred musicians playing the double bass…." Dwurnik does not renounce his trademark components of the absurd or of blunt realism. He also asks questions about the role of painting, and the responsibilities of an artist to the world and its history. Double-bass players, solo or multiplied, have appeared in other versions of the piece as well.
Maastricht. Ideal City
1999, acrylic, canvas, 200 × 210 cm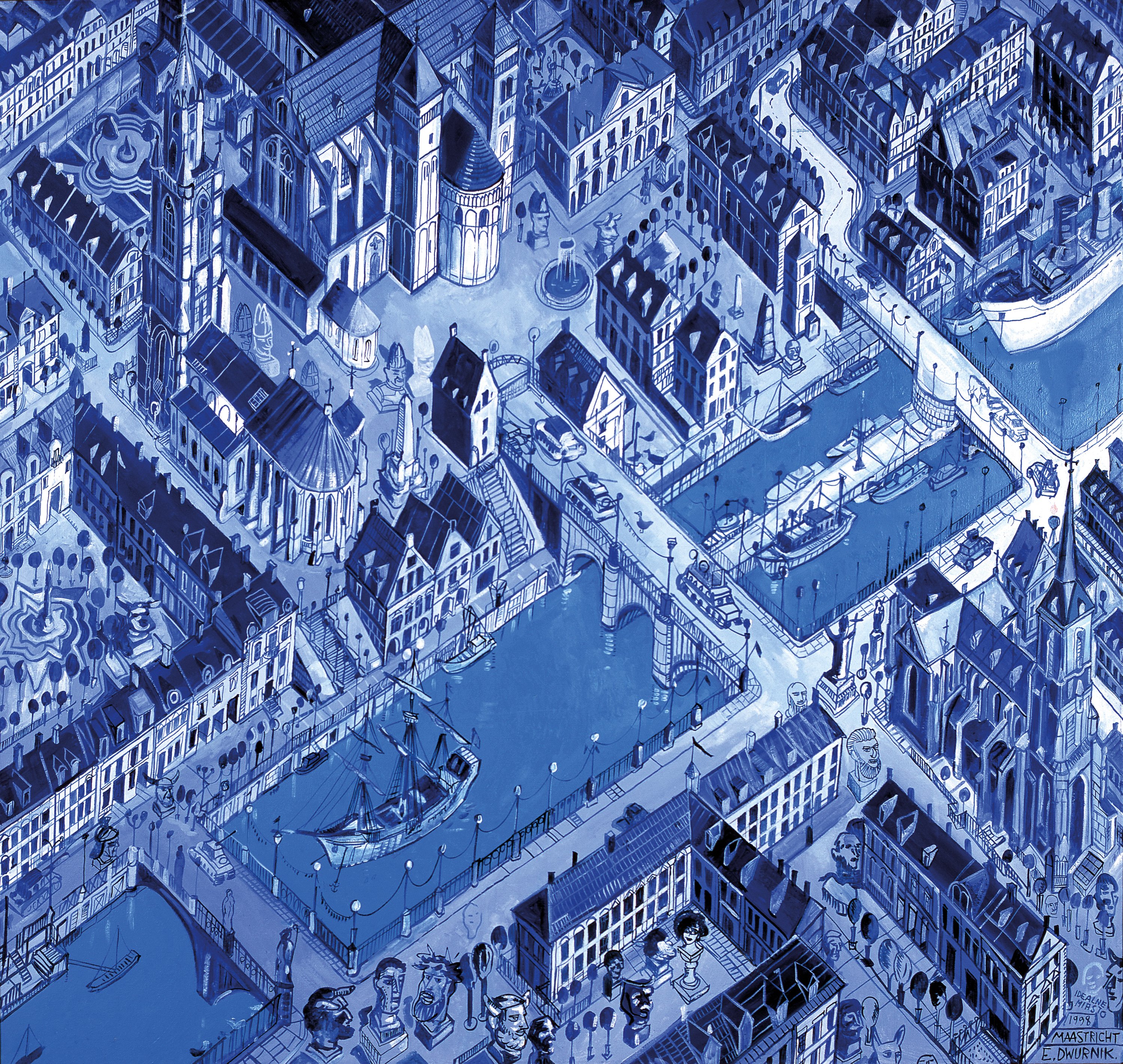 In the 1990s, after many years of creating paintings dominated by the colour green, Edward Dwurnik began working on a series of blue bird's-eye-view cityscapes. The artist filled the streets of Maastricht with monumental heads featured in his other pieces, in an allusion to characters tying in to the history of a specific location or an artwork he recalled from a visit to the local museum. The symbol-filled vision of the perfect city has been expanded to include elements ripped out from another reality, such as tanks crossing a bridge. They may be a reminder that treaties regulating the defence policy of European Union member states were signed in Maastricht.
Red Tulips
1999, oil, acrylic, canvas, 146 × 150 cm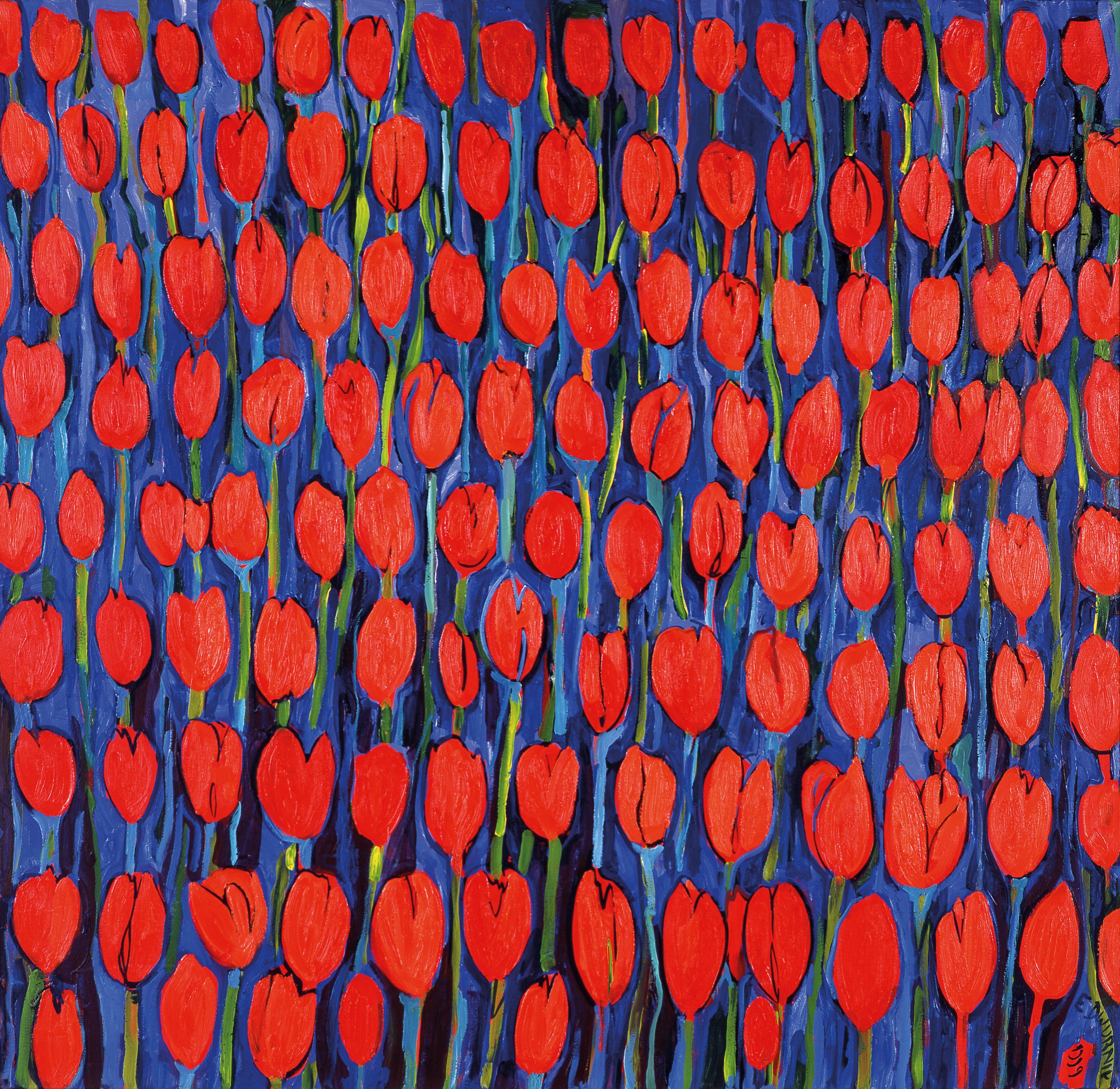 Edward Dwurnik was one of the most prolific Polish painters, his oeuvre including more than 8,000 paintings and innumerably more drawings. He would occasionally paint for pleasure, which is how the series of tulip pieces saw daylight: multiplied flowers in assorted formats and colour variations—yellow, orange, red, pink. The artist himself described some of them as morphing into intimate female body parts as he worked. Dwurnik kept a distance between himself and the issues raised: pondering on serious matters is not always the point.
Three Crosses Square
2002, watercolour, paper, 45 × 55 cm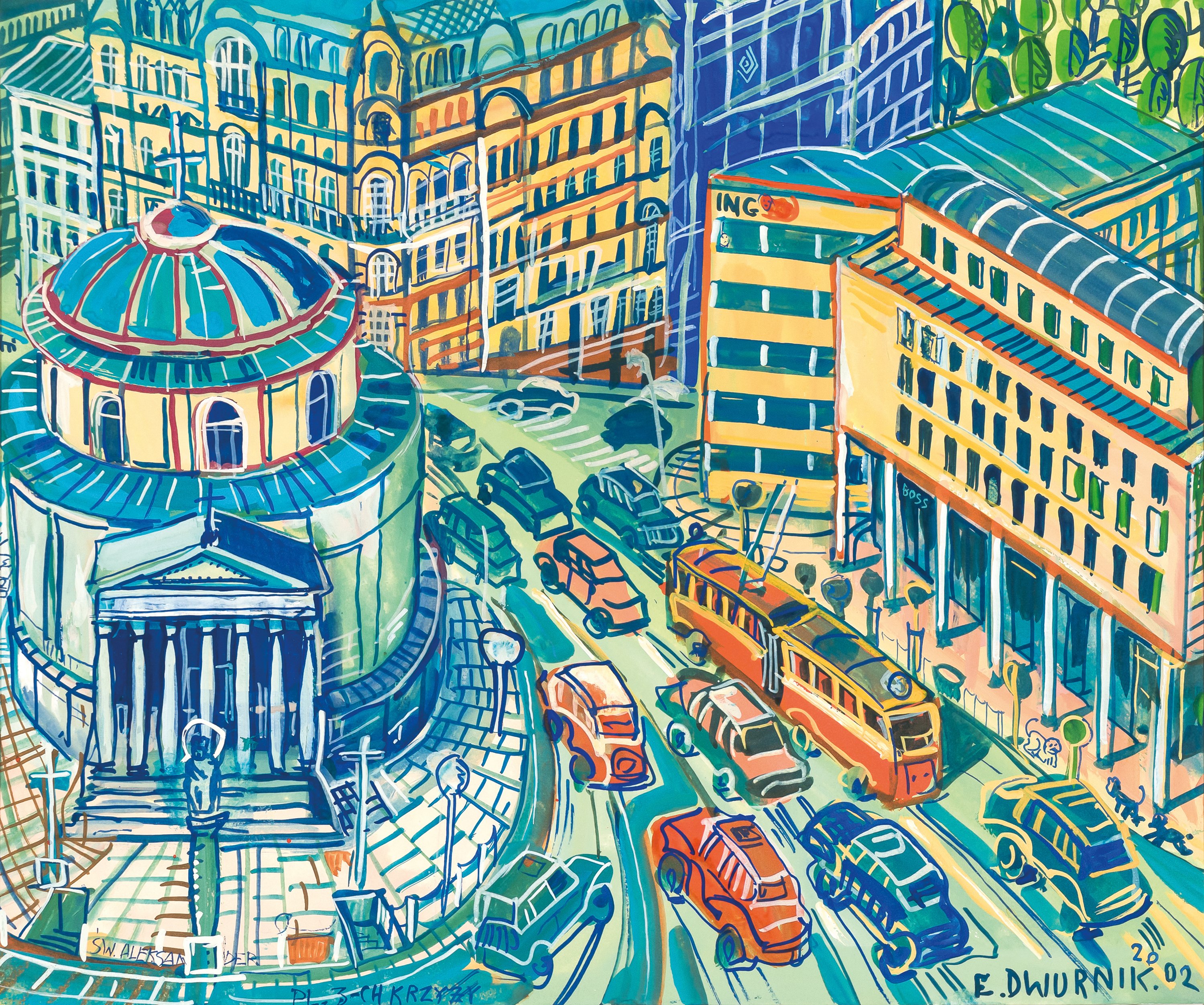 A painting by Edward Dwurnik from his most recognised bird's-eye-view cityscape series, mainly in two colours, green and red. His cityscape paintings are packed with buildings, monuments to well-known persons, and national and religious symbols juxtaposed with ordinary banal situations. Three Crosses Square depicts the area around St. Alexander's Church and the Holland Park building, the original Warsaw premises of ING Bank Śląski, where part of the Foundation's collection was displayed. Pedestrians have been replaced with perambulating lions.