Sculptor, creator of installations and videos. She graduated from the École des Beaux-Arts in Paris and studied at the Cooper Union School of Art in New York. She creates objects and installations combining industrial materials (metals, silicones) with natural resources and products such as wood, sugar, oyster shells, beeswax, and butterflies preserved in salt. Her expansive multi-component installations are frequently augmented with narrative elements, such as sound and video. Ingarden's oeuvre may be interpreted as a commentary on the ambiguous relations between nature and technology in the Anthropocene epoch, or even as a vision of a post-apocalyptic world devoid of human life. She lives and works in Paris.
untitled
2018, painted metal, oysters shell, caramel, 150 × 80 × 43 cm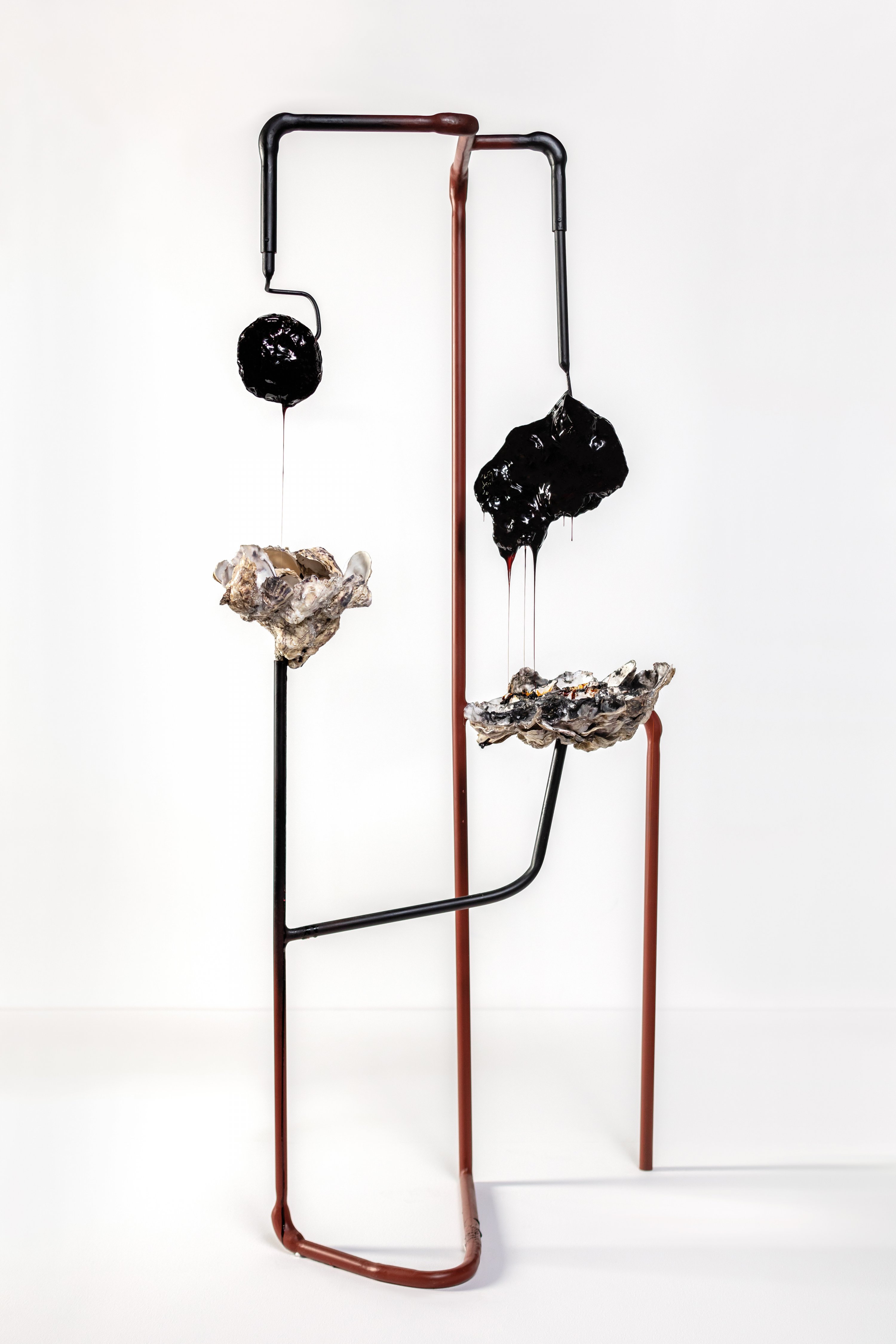 This sculpture resembles an hourglass in which the passage of time is measured with carbonised sugar dripping into a vessel of oyster shells. Time flow is irregular: the sticky caramel substance reacts differently to lighting, temperature, and humidity. Whenever the sculpture is not on display, the process is halted. The structure is supported by a frame welded from metal sewer pipes. The semi-organic, semi-industrial construction has an insect-like feel to it, while bringing to mind an appliance or household furnishing item. It was shown for the first time in 2018 at the exhibition Dom (The House) held by Warsaw's Piktogram Gallery. The exhibition sculptures were accompanied by films—static shots of objects at an abandoned seaside property. While human presence and civilisational inventions may be sensed in Agata Ingarden's pieces, people themselves are absent. The viewer becomes witness to immobile products of technology animated by natural processes.