A sculptor, performance artist, filmmaker, photographer, and creator of video installations and artistic actions. She graduated from the Faculty of Sculpture at the Academy of FIne Arts in Warsaw. She is one of the most important exponents of the critical art movement. Her graduation work – Pyramid of Animals, created in Professor Grzegorz Kowalski's studio in 1993 – sent ripples far and wide through the mainstream media. Her work poses fundamental questions concerning life and death, corporeality, identity, morality, and the passing of time. She is unafraid to raise taboo topics and overthrow social conventions, stoking controversy and challenging the outrage of the public. In 1999, she represented Poland at the 48th Art Biennale in Venice, where her video installation Male Bathhouse received honorary mentions. Kozyra's work has often been awarded and exhibited in museums and institutions all across the world. In 2012, the artist created the Katarzyna Kozyra Foundation, whose operations focus on supporting women in culture and art. She lives and works in Warsaw.
Lou Salomé Palais Schwarzenberg: Carriage
2005, pigment inkjet print, 90 x 125 cm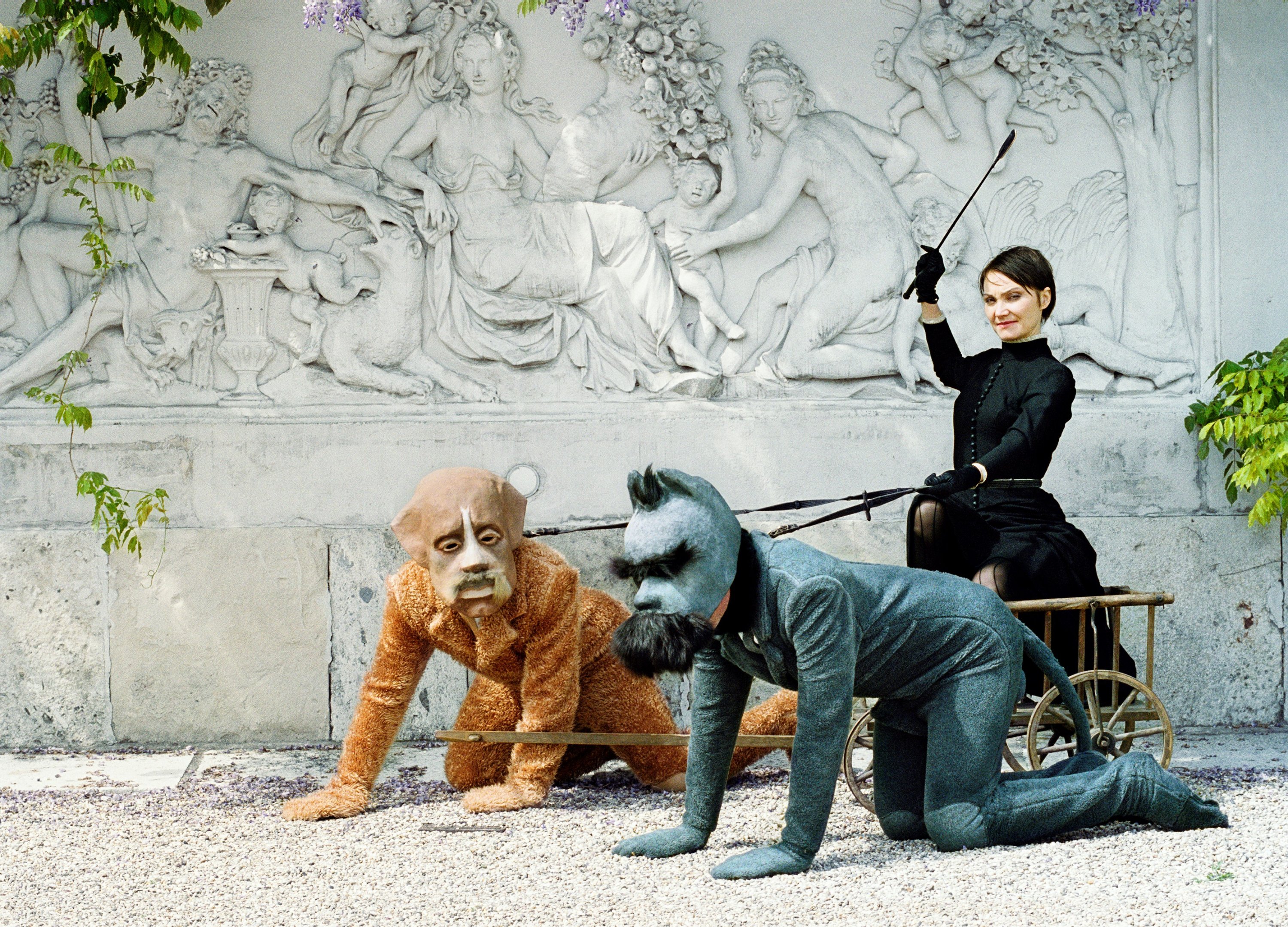 This photograph is part of the Lou Salomé series, which Kozyra made in 2005 in Vienna. The series is made up of an on-camera performance and number of photographs, in which the artist adopts the persona of Lou Salomé – a writer and psychoanalyst, a student of Sigmund Freud, and an icon of the Viennese art circles at the turn of the nineteenth and twentieth centuries. The composition is based on a photograph of 1882, capturing Lou Salomé driving a carriage pulled by the philosophers Paul Rée and Friedrich Nietzsche. The comic scene was arranged by Nietzsche shortly after Lou Salomé rejected both men's marriage proposals. Katarzyna Kozyra steps into the role of this historical female figure, who, despite her great intelligence, achievements, and her undeniable influence on the lives and work of the era's most famous thinkers, was shunted onto the margins of history. The artist is accompanied by figures dressed in dog costumes (named Rilke and Nietzsche), whom she is training. The dog masks are caricature versions of the famous poet and philosopher. Kozyra/Salomé is statuesque and domineering, and the creatures beneath her are bumbling and comedic. This is a witty, though triumphant form of revenge on the masculine-centered narrative of history.